WELCOME TO THE PIKIALASORSUAQ COMMISSION
Pikialasorsuaq (The North Water Polynya) is the largest Arctic polynya and biologically one of the most productive regions in the Arctic. It is vital to many migratory species, and for generations Inuit have recognized it as a critical habitat upon which the surrounding communities depend.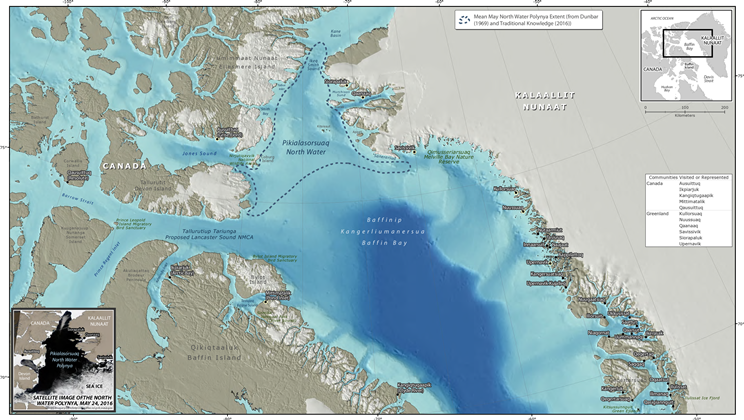 Conservation efforts need to strike a proper balance between the socially and culturally important subsistence hunting and the need to protect the habitat. These efforts should also ensure meaningful and active participation of Inuit.
The Pikialasorsuaq Commission has undertaken consultations with Inuit communities on both sides of Pikialasorsuaq in Nunavut and Northern Greenland to facilitate local and regional input; to incorporate indigenous knowledge; and to recommend an Inuit strategy for safeguarding, monitoring and management of the health of Pikialasorsuaq for future generations.
The Pikialasorsuaq Commission is led by three Commissioners: Okalik Eegeesiak, the international Commissioner; Kuupik Kleist, the Greenlandic Commissioner; and Eva Aariak, the Canadian Commissioner. The work of the Commission is planned as a 3-year project.

Facebook posts by @pikialasorsuaq
---
LATEST NEWS